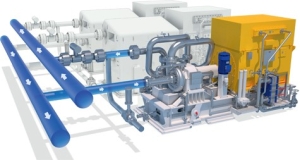 Framo Pumping Systems for the oil and gas industry are based on high-tech solutions for our main markets: Offshore floating installations, fixed platforms, terminals and underground storage caverns.
Framo Cable Free Electric Submersible Pumps
Framo Cable Free Electric Submersible Pump is an end suction centrifugal pump, driven by an integrated oil filled induction motor. The pump is suspended from a riser pipe containing the built-in electric power transmission system. This eliminates the need for electrical cables and submerged penetrations, while also providing mechanical protection
Framo Hydraulic Fire water Pumps:
Two principal types of fire water pump are available from Frank Mohn AS – Oil & Gas, namely diesel hydraulic and diesel electric pumps.
Framo fire water pumps are delivered to our customers as complete systems in containerized units, ready for installation. This has proven to be attractive and successful solution with several advantages: including enabling the system to be fully tested and proven to be in working order before it leaves the manufacturing plant, and significant reduction of on-site assembly and commissioning time.
Product Range:
Cargo Pumping Systems
Transportable Pumping System.
Oil-recovery Equipment.
Anti-heeling Systems
Offshore Pumping Systems